Strawberry Container Farm

Comes With
Lifetime Warranty
Grow Year-Round Fresh Strawberries
Our Strawberry Farm Estimation Based On 2023 Market Data (Desktop Only)
Want to know your container's ROI potential? Try our calculator on your desktop!
Quick shipping container
farm overview.
Scroll to the bottom for more images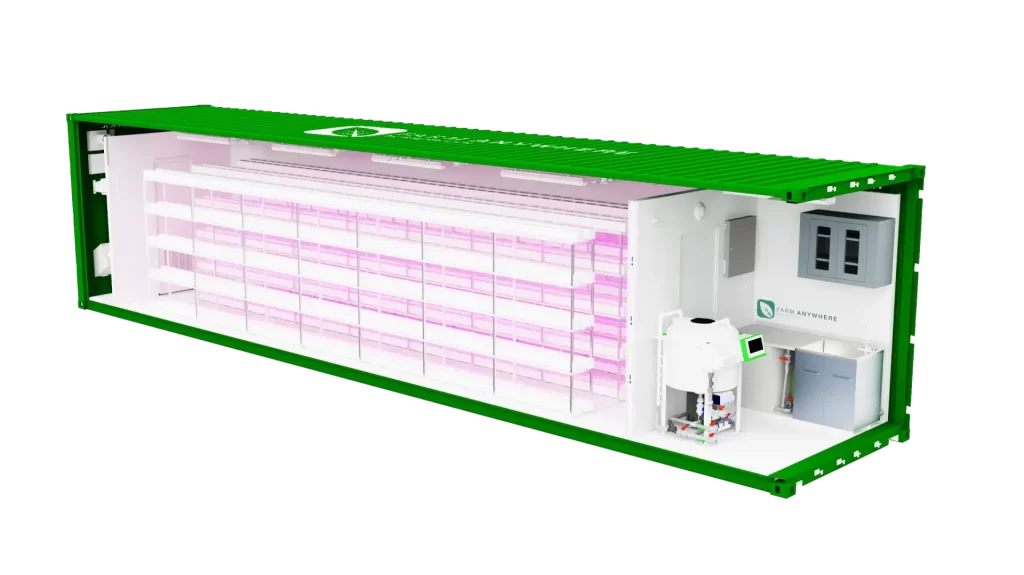 The Strawberry Container Farm
Here's a quick mechanical overview of the container solution.
40' HC
20' HC Option Available
GAP Certifiable
Fully Insulated R15 to R20
One Trip Upcycled Container
Real Man Door For Easy Access
Integrated Balanced HVAC
Electrical
Plumbing
Environmental Control And Sensor Pre Installed
Medical Grade PVC Wall Finish
Epoxy Flooring
What you get in a Strawberry Container Farm.
Our container farms are designed to be adaptable and customizable, allowing you to make modifications as your business grows and evolves making it the best container for growing strawberries. Out of box configuration includes the following:
Up to 3,000W
Grow Light Wattage
(5) 4' Vaportight LED's
Number of Lights
600 Pint inline
Dehumidification



200 AMP Single Phase of Three Phase
Electrical Power


Regulator w/ distribution hose and diffuser
CO2



Not Applicable
Fertigation
Controller

Auto or Manual
Fertigation Type


TrolMaster Hydro X Pro
Environmental Control
Double Wall NFT Channels
Growing Methodology


Universal
Indoor or Outdoors
Looking for Something Different?
Browse through our product brochure
Determine the solution that best meets your needs, or reach out to us for assistance.
Our virtual tour provides an in-depth look at the features and benefits of our container farms, and provides you with a clear understanding of how our equipment can help you to achieve your farming goals.

Don't wait, book your virtual tour today and discover how FarmAnywhere provides you the equipment and technology to grow more, faster, and smarter.
Experience our white glove service.
We encourage you to contact us as soon as possible to discuss how we can help you become a farmer or to expand your current farming capacity.
Follow our build process.
Get ready to to receive your farm while we build and ship your solutions.
Email us today for more info