VANCOUVER, BC – June 29, 2023 – FarmAnywhere, the industry leader in innovative agricultural solutions, has announced a significant leap forward in production capacity. It has successfully ramped up its manufacturing operations to churn out four Universal Lite Farms every month, bringing the total capacity to an impressive 48 container farms per annum. This progress marks a seismic shift in the speed of agricultural production, akin to when Henry Ford revolutionized automobile manufacturing with the assembly line.
Just as Ford's invention dramatically accelerated car production, FarmAnywhere has devised its unique assembly line for Container Farms. This groundbreaking approach opens the doors to mass production of farms on par with automobile production, a concept hitherto unimagined in the agricultural sector.
In addition to this pioneering production model, FarmAnywhere prides itself on its commitment to local sourcing and international collaboration. Each farm is meticulously built in Vancouver, BC, utilizing a vast majority of supplies from local vendors. This supports not only the local economy, but also minimizes environmental impact. Moreover, the farms are constructed by a diverse team of experts from 10 different nationalities, reflecting the company's dedication to fostering a multicultural and inclusive work environment.
The potential benefits of this development are immense. The advanced production capacity is expected to usher in significant economies of scale, contributing to affordability and accessibility of this innovative farming solution.
Gabriel Zarafonitis, CEO of FarmAnywhere, speaks highly of this achievement: "This is an incredible milestone for us, and I couldn't be more proud of the entire FarmAnywhere team for this accomplishment. We are one step closer to bringing affordable, hyper-local container farms to the masses. The dream is fast becoming reality."
FarmAnywhere's commitment to pushing the boundaries of conventional farming is highlighted in its latest success, underscoring its role as a game changer in sustainable, accessible, and innovative agricultural solutions. As the demand for localized and sustainable farming methods grows, FarmAnywhere's increase in production capacity of Universal Lite Farms signifies a promising future for the global agricultural landscape.
For more information about FarmAnywhere and its revolutionary approach to modern farming, please visit www.farmanywhere.ag
About FarmAnywhere: FarmAnywhere is a pioneering agricultural tech company specializing in container farming solutions. With its innovative Universal Lite Farms, FarmAnywhere provides sustainable, localized, and scalable farming solutions that empower communities and transform the agricultural industry.
Press Contact:
Cristine Marcello
press@farmanywhere.ag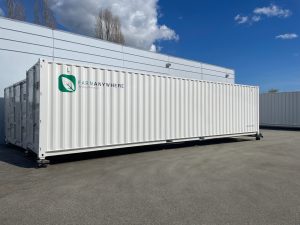 VANCOUVER, BC — September 13th, 2023 — FarmAnywhere, a leading innovator in sustainable and efficient farming solutions, is proud to announce a lifetime warranty on