VANCOUVER, BC – June 1st, 2022 – FarmAnywhere, a trailblazer in innovative farming solutions, is delighted to announce the opening of its expansive new manufacturing facility in Vancouver, BC. At 18,000 sq/ft, this cutting-edge facility marks a significant step in the company's ongoing growth and commitment to furthering the FarmAnywhere philosophy of 'keeping it simple' in its manufacturing practices.
The new facility's strategic location in Vancouver, with its proximity to major ports and train lines, streamlines the company's shipping process for its state-of-the-art container farms. The capability to easily transport these self-contained farming units to global destinations will not only bolster FarmAnywhere's operational efficiency but also enable it to better serve customers around the world.
What sets FarmAnywhere apart is its full vertical integration model, which will be further empowered by the Vancouver facility. The company will control every aspect of the manufacturing process, from the purchase of containers to their insulation and the quality of paint. By managing each step in-house, FarmAnywhere not only guarantees the quality of its products but also optimizes production times, resulting in quicker delivery times for customers.
This vertical integration, unique in the industry, positions FarmAnywhere as the most vertically integrated container farm company in the world. It illustrates the company's unwavering commitment to innovation and customer satisfaction. FarmAnywhere's team of professionals oversees each process stage, ensuring that every container farm is produced to meet the highest standards of quality, durability, and efficiency.
"Our expansion into the new facility underlines our determination to advance our operations and offer unparalleled service to our global customers," said [CEO or Spokesperson's Name], [CEO or Spokesperson's Position] at FarmAnywhere. "Being the most vertically integrated container farm company in the world is not just a title but a testament to our commitment to ensuring the utmost quality and control in the production of our container farms."
With its new facility, FarmAnywhere continues to redefine the standards of farming, championing a sustainable future and creating opportunities for fresh, local produce to be grown anywhere in the world.
For more information about FarmAnywhere, visit FarmAnywhere.ag
About FarmAnywhere
FarmAnywhere is a global leader in container farming, known for its innovative, efficient, and simple farming solutions. Through the company's commitment to vertical integration and uncompromising quality, FarmAnywhere is transforming the way the world farms.
Press Contact:
Cristine Marcello
press@farmanywhere.ag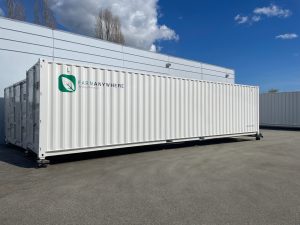 VANCOUVER, BC — September 13th, 2023 — FarmAnywhere, a leading innovator in sustainable and efficient farming solutions, is proud to announce a lifetime warranty on